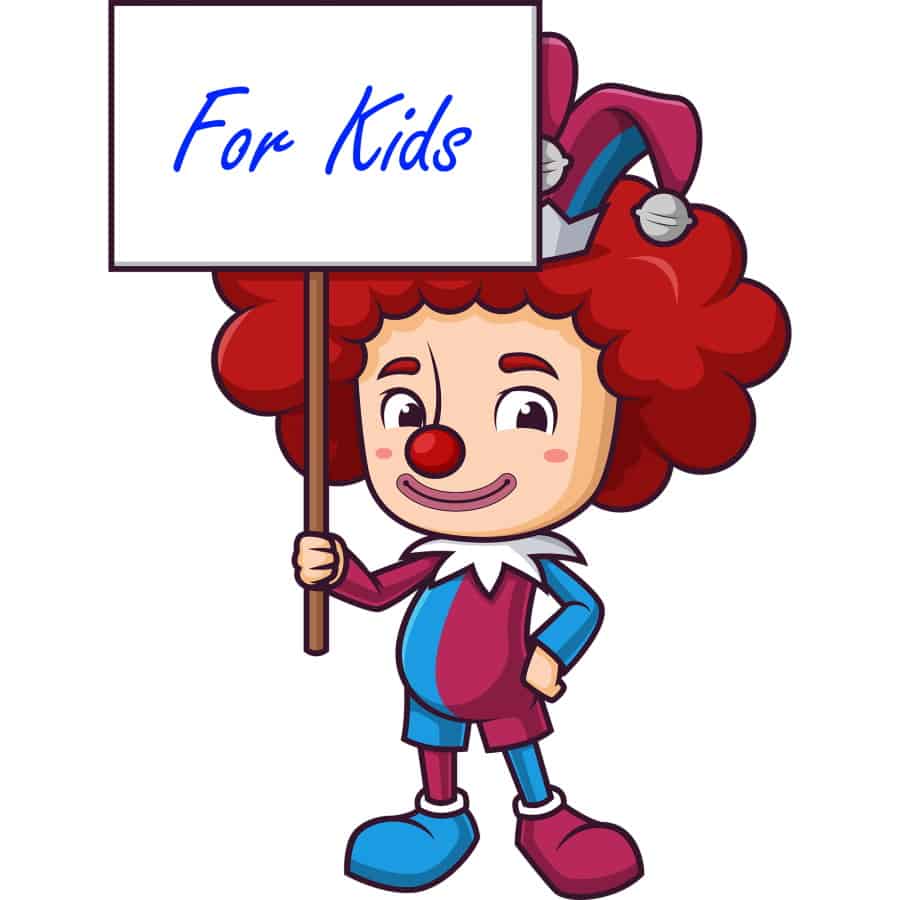 It's no surprise to anyone (around kids) that kids love TV. They can watch for hours on end! They also like to laugh, so combining the two makes sense, right? But what's appropriate for grown-ups isn't always that way for kids. Therefore, it's important for parents, grandparents, babysitters…basically, anyone around kids to know the top TV shows to make kids laugh.
The top TV shows guaranteed to make your kid laugh have a few simple things in common. Slapstick humor, colorful and vibrant settings, zany plots, and over-the-top characters are most prominent in the top funny TV shows for kids. From Mr. Bean to Wipeout, there is a commonality that's successful.
As a mom of four and retired public school teacher, I've been around enough kids to know what's universal in their humor. I'm happy to share with you what I've learned about making kids laugh and the top TV shows I recommend for this!
Top TV Shows to Make Little Kids Laugh
Now it's not to say that little kids should be watching loads of TV programming, educational or not. Kids Health say toddlers from 18 months to 2 years old may watch some videos with their supervising adult, and recommend no more than one supervised hour per day of 'screen time' for kids 2 -3 years old.
The Mayo Clinic also advise selecting shows that incorporate movement like dancing to support children's physical health, as well as mental development. But caution that it's important to keep in mind that all children are different.
"As your child grows, a one-size-fits-all approach doesn't work as well. You'll need to decide how much media to let your child use each day and what's appropriate." – The Mayo Clinic
The Boss Baby: Back in Business
The Boss Baby: Back in Business is guaranteed to make your kid laugh. After all, it has a baby dressed in a suit! That alone was a brilliant move by the creators because kids find things funny that are out-of-the-norm.
The Boss Baby should sound familiar because it originally came out as a full movie starring 'voices' of some well-known Hollywood actors. But kids don't really care about name-dropping voices that are used for the characters, nope! They care more about the plot, character traits, and that the voices fit the dialogue.
This TV show (and the original animated film) stars a baby wearing a suit, with a grown up voice, tricking all the grown ups around him. Basically, that's what kids like the most- and no surprise to anyone familiar with kid humor, I'm sure! And the shenanigans that follow have kids laughing out loud!
You can find new episodes of The Boss Baby: Back in Business on Netflix. However, don't fear if you don't have a subscription for it. You can find lots of clips on YouTube to keep your little kids laughing, or feel free to go to Amazon and purchase seasons for streaming or DVDs, as well as the original animated 2017 version, The Boss Baby.
Mr. Bean
Mr. Bean (1990 TV series) will make your kid laugh! Mr. Bean, the character, is child-like, naïve, clumsy, and goofy-all the things that make him appealing to kids.
It's good for kids of all ages, but particularly little kids, because of it's limited dialogue (dialogue can be confusing for little kids sense the vocabulary is often above their level). Instead, the show relies more on slapstick humor and the crazy faces actor Rowan Atkinson is able to contort for laughs. And this is quite successful for making young kids laugh.
You may think that the animated version would be more up your small child's alley, and if you have a cartoon lover then maybe you are right. Yet, I would suggest trying out the in person version. Rowan is a master with facial expressions, body positioning, and awkwardness.
His long running character Mr. Bean is famous for being able to tell a story with complete with insinuations and subplots with nearly no dialogue. This will resonate with children that are trying to learn what body language means and how to recognize it. The comic device of exaggeration is masterfully done in these scenes.
Amazon Prime members can often find free episodes of Mr. Bean (both animated and non-animated) for viewing. If you are not a Prime member, but interested, you can go here.
Shaun the Sheep
Shaun the Sheep started out as a TV series back in 2007 and then spun off into a movie in 2015. It's about a really smart sheep, always getting into some trouble, and the funny ways he and his farm buddies manage to escape. It's a claymation show that most adults enjoy just as much as kids.
Another great aspect of this series for younger kids is the extremely limited dialogue. All story is told through action and reaction. All the characters from the sheep, to the farmer's dog, to the farmer himself use only grunts and some claymation style facial expressions to tell the comical stories.
Smaller kids will be able to follow the story and will love that they understand everything that is going on. One of the big problems with some shows aimed at this age group is the language. It is too far above the intended audience. This is not a problem with Shaun and his barnyard pals.
Not only is this a claymation production, but the art style is very friendly and draws in viewers of all ages.
Kids love the toy-like look as well as the colorful characters of Shaun the Sheep.
Like Mr. Bean, Shaun the Sheep is available for easy viewing on Amazon Prime and free for Prime members. It's also available there for purchase.
Top TV Shows to Make Big Kids Laugh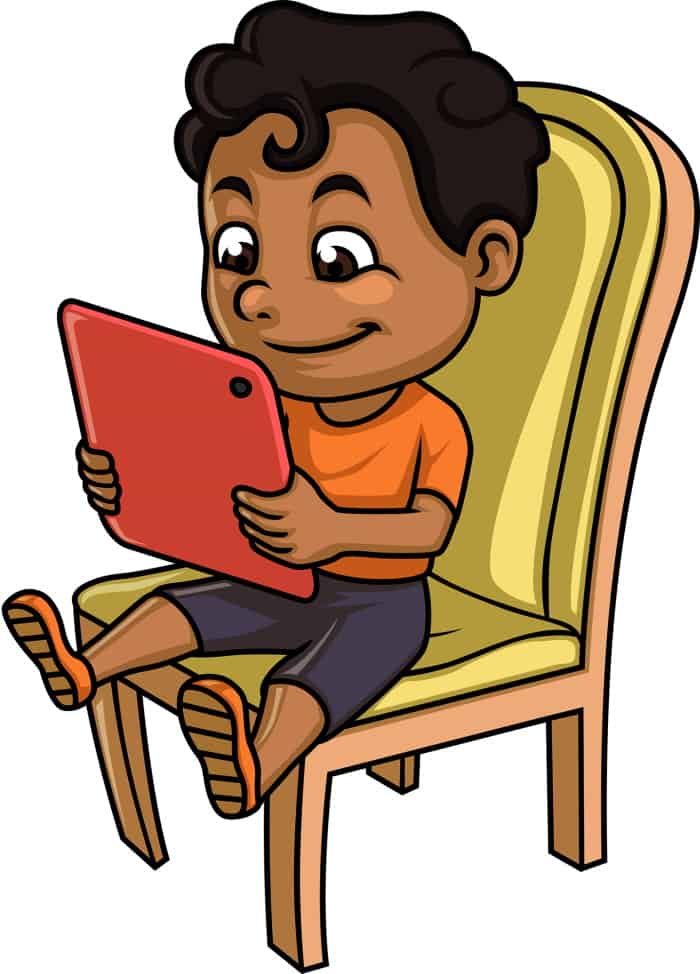 Statistics tell us that adolescents spend upwards of 9 hours a day 'on screen', which when you compile all usage of computers, tablets, smart phones, TVs and more, it's not surprising!
The American Academy of Child and Adolescent Psychiatry (AACAP) acknowledges, however, that not all screen time is equal and suggests parental supervision is the best way to ensure your child's health and safety in regards to screens.
They even admit there are many positives that can be gained!
And one that we see is adding laughter (appropriately) to your child's day through some funny TV viewing!
Malcolm in the Middle
Malcolm in the Middle is a another TV show that both parents and kids like equally, making it a great TOP choice for making your kid laugh! This show's plot centers around a genius middle child and his kooky family.
The show began in the year 2000 and was a staple of the Fox TV network for six seasons. It is currently found in syndication on various streaming programs, but Malcolm in the Middle can also be bought directly at Amazon.
What makes big kids laugh about Malcolm? Well, I'd say it's the slapstick humor, zany scenarios, and out-of-the-box characters, including Malcolm and his entire family, that's prevalent in every episode!
The dad, played by Bryan Cranston, is a sideshow unto himself. His hairbrained ideas, over the top reactions, and lovable but completely opposite example of what a dad should be is hilarious.
Malcom's older brother is a typical troubled kid turned bully and his younger brothers is the forgotten youngest child that slips many times into and out of trouble unnoticed. All of this is micromanaged by a mother that defines what mom's aspire not to be.
Add all of this together with Malcom's growing pains in a public school with friends and the pressures of being a genius and you have one hot mess. That is funny.
SpongeBob Squarepants
Nickelodeon's SpongeBob Squarepants first began in 1999 and I think it probably surprises the creator as much as anyone that this show is as popular as ever!
Kids love the colorful cartoon, it's wacky plots that see loveable SpongeBob in one mishap after another, and the silly songs that pop up frequently. With a wide-range of side characters from SpongeBob's best friend, Patrick, to his pet snail, Gary, to the stingy boss, Mr. Krabs.
Spongebob has an age rating from ages 6 to 11 years old. There is some justification for this as sometimes the themes of the jokes can be a bit older in nature and some of the animations is a few episodes can be scary for younger kids. That being said, if your little one is 6 years old or older, this one can be a gem.
Mr. Krabs: Take that filthy pile of trash with you.

Spongebob: You shouldn't talk about Squidward like that.
It's available in many ways to watch: Disney+, Nickelodeon on Cable or App, or as usual, on Amazon streaming. There is always the convenience of purchasing SpongeBob DVDs from Amazon, as well. After all, you WILL be watching it over and over to make your big kid laugh, over and over!
Teenage Mutant Ninja Turtles
Besides SpongeBob Squarepants, Nickelodeon also offers Teenage Mutant Ninja Turtles (TMNT) for making big kids laugh. TMNT first hit TV screens in 1987 and has enjoyed a new popularity recently with a hit series in 2012, along with many spin-off movies on the big screen.
Kids love these giant 'teen-sized' turtles named for long-ago Italian artists, who devour pizza, use surfer-slang, and act like lovable, yet annoying big brothers. How can you not find that funny? Especially if you're a big kid!
Raphael: I just want to apologize for earlier.

Leonardo: Okay, who are you and what have you done with our brother, Raphael?
The one character that really makes this a comic fest is Mikey. He is named after the famed artist Michael Angelo, but his are it painted in jokes and slapstick. From witty one liners, to eating pizza in the midst of a battle with evil space robots, Mikey is the star comic of these episodes.
There is also Splinter with his constant disapproval of the groups teenage antics and his swift martial arts style punishments. Even in the midst of a moral lesson that shows up in many episodes, they humor comes out of nowhere and elicits chuckles and out right laughs.
These series are great tools for parents, grandparents, instructors, and teachers alike. Even for those not inclined to pursue the martial arts, these are a great set of shows.
Funny TV Games Shows to Make All Kids Laugh
Game Shows make great TV viewing for the whole family, but are especially great for laughs. The game show format is ready-made for them, actually, with its silly tasks, time limits that lead to big crashes- literal and/or figurative, and eager contestants. This is why three game shows make the list for Top TV Shows guaranteed for making your kid laugh.
Minute to Win It
This TV game show came out in 2010 and ran for several seasons. On this show, competitors vie for $1 million by being the first to finish ten tasks. The thing that makes big kids laugh out loud is the use of common, household objects like cups and vacuums within a nail-biting one minute time-frame in the tasks!
Make no mistake, when you are rooting for someone to win and they fail big, laughter ensues. Sometimes it is a laugh of pity for the person or it can be at their expense if the crash and burn is big enough. There are several shows that bring cheers, jeers, and laughter even from sitting you your own living room. This is definitely one of those shows.
Because it's no longer in production doesn't mean it's lost its popularity. In fact, with YouTube and TikTok, Minute to Win It has seen a resurgence. People are catching 'reruns' and making their own minute challenges to post, too.
Wipeout
Caution: This show may cause the viewer to laugh until they cry. This is no joke. My husband laughs at this show until his sides hurt.
There's something about seeing people fall, i.e. 'wipeout', that is guaranteed to make your kid laugh! I think this is part of the impetus for the producers of Wipeout. They not only set up most of these competitors to fail, but did it in such a way that you can't hardly watch and stay silent.
Wipeout aired originally in 1994 and ran several seasons. It's also being currently rebooted.
The show has several rounds of obstacles courses that contestants must get through in order to win. From the title, it's pretty obvious that many competitors don't make it and literally, wipe out. The good thing is that it is usually into a giant pool of water or a soft pit of sponges.
This hits a nerve that children have starting in the toddler stages. They want to know that these contestants will be alright. Since the show is designed with safety in mind and we see contestants take spill after spill and get back up just fine, children will find it safe to laugh at.
Kids audibly groan, and then laugh out loud, seeing the contestants plummet…and that's why this show makes the Top 9!
Who's Line Is It Anyway?
Whose Line Is It Anyway is guaranteed to make your big kid laugh! It's a comedy show geared around improvisational 'acting'.
Four comedians supposedly compete for judges which include Drew Carey and the audience to be the funniest at demonstrating impromptu 'lines'. I say, 'supposedly compete' because it's always unclear about the rules for winning; that in itself is part of the gimmick.
Kids loves watching the hilarious back-and-forth acting and chatter among the contestants and Drew Carey. It's evident to them that the show is light-hearted and just plain silly. To be honest, our whole family adults includes love to laugh at this show. There is some serious talent on display in these episodes. They are a great set of family safe seasons of pure fun.
There's usually some slapstick, over-dramatization as well…features that are especially appealing to kids. It is even fun to do a 'try not to laugh challenge' while watching with your kids. Warning: With this show it is much harder than it sounds.
Your family can watch via Amazon Prime streaming or by purchasing the Whose Line Is It Anyway DVD sets from Amazon.
Punchline for Top 9 TV Shows Guaranteed To Make Your Kid Laugh!
Despite what might seem a common feeling, TV can be used appropriately as a family past-time especially if you include these top 9 tv shows guaranteed to make your kid laugh!
Keep in mind that screen time has recommended viewing limits but ultimately, you know what's best for your family. As long as you enjoy the shows together, it'll be a great time for your kids!
From old favorites like Mr. Bean to modern game shows that spark viral trends, there's bound to be many days ahead of laughter for your kids (and you) watching these top 9 TV shows!